Welcome:

to Base autobodies;
We specialise in the repair of all types of motor vehicle bodies

Our easy to find workshop unit is situated just off the M65 on the Lomeshaye industrial estate in Nelson, Lancashire. See map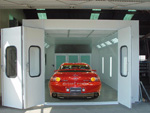 If you have an accident, Not your fault, don't worry...
Our work is of the highest standard. We have a state of the art body shop, carry out all insurance work and
have earned an enviable reputation over the years with our work for our many satisfied customers.
We will take care of your courtesy car and have you back on your way in no time.


Opening hours: Mon - Thurs 8.30am - 5pm, Fri 8.30am - 4.00pm.
"Car crash / accident repair damage – stressful, inconvenient? Not any more!"